THE PROBLEM: When attempting to add the TAS Indicators to the chart, I can't find them on the list of Studies.
THE CURE: Follow the step-by-step instructions provided below to add the TAS Indicators into the chart. 
NOTE: Please login to your TAS Launch Pad first with your credentials and have it authorized prior to starting your platform and following the steps below.
STEP 1: Attempting to Add Studies
Right-click on the chart and click "Insert Study..."
STEP 2: Locating the TAS Indicators Files
In the Insert Study window, click the Formula tab and scroll down and double-click the TASindicators folder. It will show you the list of all the 7 TAS Indicators.
STEP 3: Adding TAS Indicators to Chart
Click any of the TAS indicators and then hit the "Apply" button and click Close. The TAS Boxes will now be added on your chart.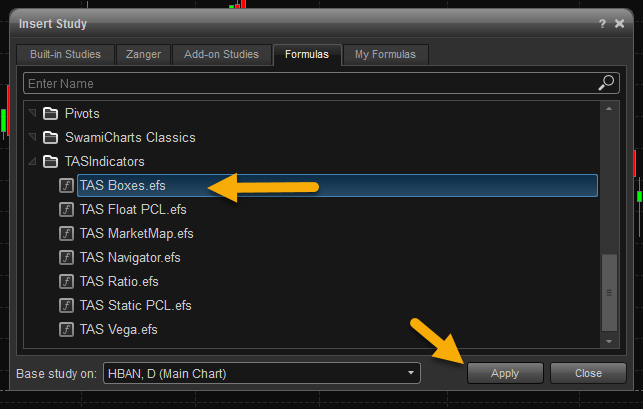 **Example after adding TAS Boxes on the chart.
STILL NEED HELP? Create a support ticket by emailing the Help Desk team at Help@TASMarketProfile.com.