Learn how to properly install TAS Indicators on Tradestation 9.5
Quick Guide
PART 1 - Installing TAS Files
STEP 1. Visit the indicator installation page for Tradestation at https://tasmarketprofile.com/install-for-tradestation/ 
STEP 2. Click Install TAS Software to download the installer.
STEP 3. Run the installer
STEP 4. On the "Installation Folder" step, you'll be prompted to select the folder you want the TAS Indicators files to be installed into. 
For Tradestation Version 9.5, Use this Directory Path:
STEP 5. Set folder to C:\Program Files (x86)\TradeStation 9.5\Program
STEP 6. When prompted by Microsoft Visual C++ setup, click Install or Repair then close when done. If you are prompted with a Microsoft C++ error message, it may be caused by the fact that you already have the most recent version and that is ok. 
STEP 7. Login on the TAS Launch Pad with your username and password credentials. Have it authorized and click Minimize To Tray. Click Finish on the setup window which displays Installation Successful.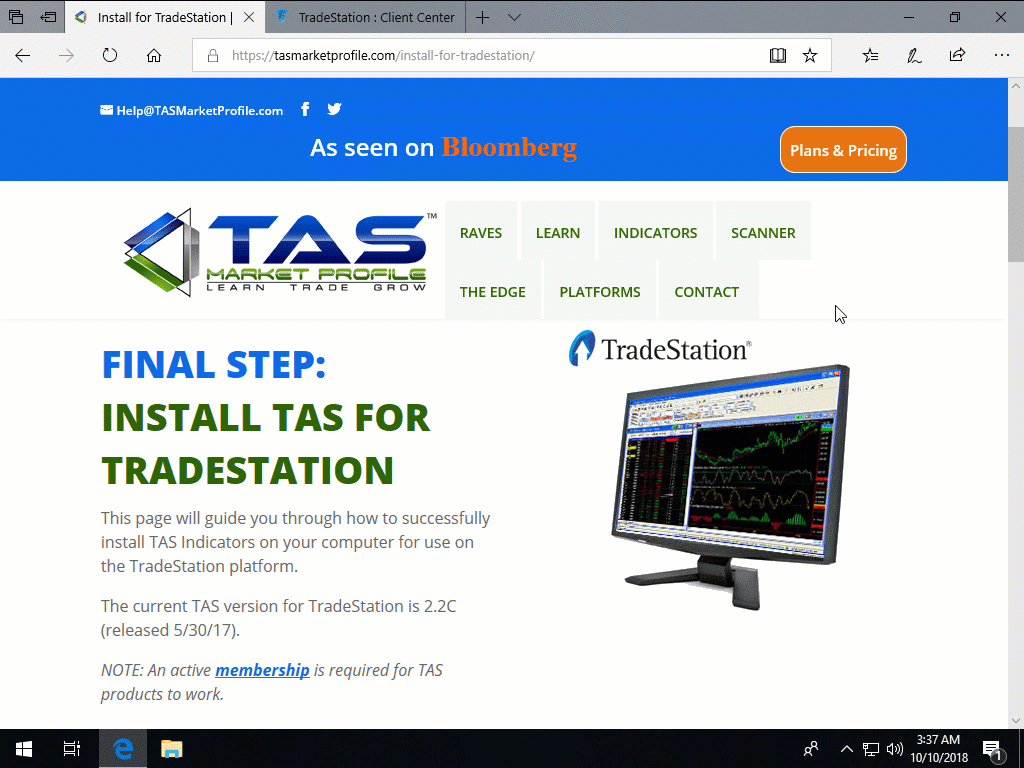 PART 2 - Importing TAS Files via Tradestation Easy Language
STEP 8. Launch your Tradestation 9.5 platform, then go to "File" menu and select "Import/Export Easy Language."
STEP 9. Click the "Import EasyLanguage file (ELD, ELS or ELA)" in the Import/Export Wizard window list and click the NEXT button.
STEP 10. On the next screen, click Browse and locate the TASIndicators.ELD file in C:/Windows folder. Click the TASIndicators.ELD file and click OPEN button.
STEP 11. Continue to click the NEXT button and when it prompts you to confirm replacement just click the YES TO ALL button.
STEP 12. Finish Installation
A reminder will pop up and you can just click OK and files will be imported. 
Another prompt will appear to alert you that the import is successful. Hit OK to proceed and you are done. You may again attempt to add TAS Indicators to your TradeStation charts. 
STILL NEED HELP? Create a support ticket by emailing the Help Desk team at Help@TASMarketProfile.com.