THE PROBLEM: After update of the Tradestation and then attempted to add the TAS Indicators to the chart, the TradeStation platform does not show any list of TAS Indicators on the indicators list.
THE CAUSE: During installation of the TAS Indicators, the files were installed in the correct directory/folder to match the user's version of TradeStation. Unfortunately, when you updated your Tradestation version it created a new directory/folder which the TAS Indicators was not installed in that referenced directory/folder
THE CURE: Follow the step-by-step instructions provided below to reinstall the TAS Indicators into the correct directory/folder.
STEP 1: Reinstall TAS Indicators Into Correct Directory
Revisit the indicator installation page for TradeStation at https://www.marketprofileindicators.com/p/tradestation_install
Run the installer again (no need to uninstall prior one)
On the "Installation Folder" step, you'll be prompted to select the folder you want the TAS Indicators files to be installed into. The user needs to change the folder location and directory path from the default location to the folder that matches their version of TradeStation.
Changes on the Directory Path:
For Tradestation 10.0, set folder to C:\Program Files (x86)\TradeStation 10.0\Program
FOR EXAMPLE, FOR VERSION 9.1 (See Image Below)
STEP 2: Continue through installation
Continue to press next, install Microsoft C++ runtime until finished. If you are prompted with a Microsoft C++ error message, it may be caused by the fact that you already have the most recent version and that is ok.
STEP 3: Import Easy Language
Launch your Tradestation platform, then go to "File" menu and select "Import/Export Easy Language."
Click the "Import EasyLanguage file (ELD, ELS or ELA)" in the Import/Export Wizard window list and click the NEXT button.
STEP 4: Locate ELD File Location
On the next screen, click Browse and locate the TASIndicators.ELD file in C:/Windows folder. Click the TASIndicators.ELD file and click OPEN button.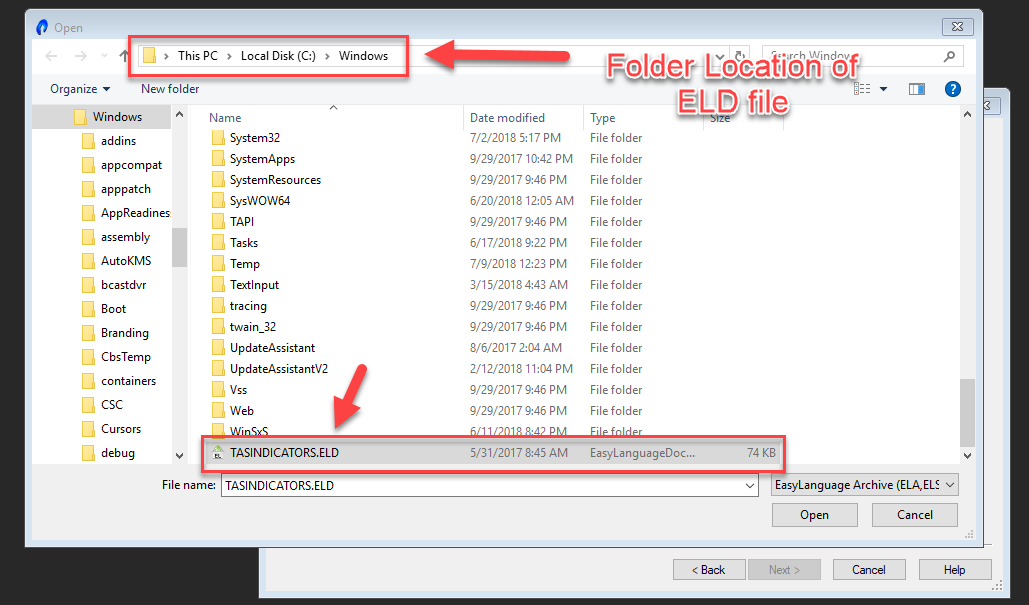 STEP 5: Continue Through the Prompts
Continue to click the NEXT button and when it prompts you to confirm replacement just click the YES TO ALL button.
STEP 6: Finish Installation
A reminder will pop up and you can just click OK and files will be imported.
Another prompt will appear to alert you that the import is successful. Hit OK to proceed and you are done. You may again attempt to add TAS Indicators to your TradeStation charts.
STILL NEED HELP? Create a support ticket by emailing the Help Desk team at Help@TASMarketProfile.com.