THE PROBLEM: Finding the parameters settings of the TAS Indicators.
THE CURE: Follow the step-by-step instructions provided below to navigate and properly edit the TAS indicators parameter settings on your chart.
Quick Guide
STEP 1: Open Indicators List
From your chart, either click this menu icon or press "E" on your keyboard. This will bring up the Chart Settings window.
On the left-side pane, you'll see General Setting above and after that are Indicators below. See sample snapshot where TAS Boxes was only the indicators on the chart.
STEP 2: Changing Input Parameters (Example for TAS Boxes)
We'll be using TAS Boxes as an example to edit Input parameters
Click TAS Boxes, on the right side pane you'll see the Function Section where the 3 Input parameters MinSignal, Length, MapLength are.
Now as an example we'll change MinSignal to 3. Click the Value field right next to the MinSignal and change the value number to your personal preference.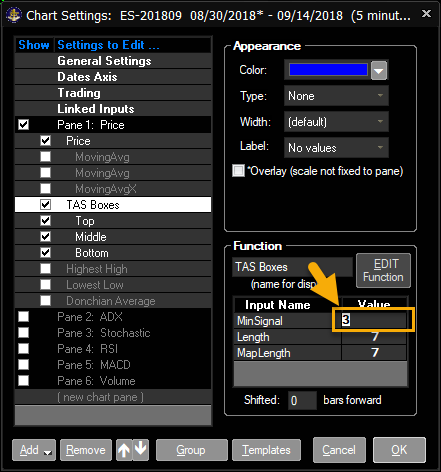 *NOTE: It is advise though that the default settings are the best settings for our TAS Indicators to use.
STEP 3: Changing Thickness Or Colors Of The Lines (Example for TAS Boxes)
When you're done changing the value, let's proceed with changing the thickness or colors of the lines. Select TOP, then in the Appearance section at the right, you can change the Color, Type, Width.
Once you're finish with the settings you can hit OK and you're Done.
You can do so on other TAS Indicators but they have different parameters to change.
STILL NEED HELP? Create a support ticket by emailing the Help Desk team at Help@CandidCommodities.com.