THE PROBLEM: When attempting to add the TAS Indicators to the chart, it's not showing on the chart and giving me error message to contact Helpdesk.
THE CAUSE: TAS Launch Pad is not running on the background or not logged in as Authorized.
THE CURE: Follow the step-by-step instructions provided below to run the TAS Launch Pad, Login and have green status "Authorized", and remove the error on your chart.
STEP 1: Checking TAS Launch Pad is running
Look for the TAS Launch Pad icon on your desktop as shown below and double-click the icon to start it up.
There are 2 things that may happen when you start up from the icon:
A prompt will appear saying "Another instance of TAS Launch Pad is already running". You proceed with STEP 2.

The TAS Launch Pad form will pop up on your screen for you to login. You proceed to STEP 3.
STEP 2: Checking TAS Launch Pad is logged in "AUTHORIZED"
There are two ways to check this:
Look on your taskbar and click app
Look on your taskbar icon
You will be seeing this login window of the TAS Launch Pad showing on your screen. If you're not logged in with a green status "AUTHORIZED" then proceed to STEP 3.
STEP 3: LOG IN to the TAS Launch Pad
If the username and password field is blank, type in your login credentials and check "Remember Me" to save your credentials and hit LOG IN button. Otherwise, if you already have it filled in, just hit LOG IN and wait for the status to show Green and "AUTHORIZED".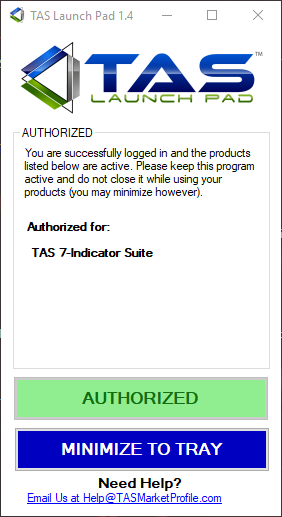 Click Minimized to hide the TAS Launch Pad on your tray bar.
STEP 4: Restart Chart or Platform and you're Finish
Refresh chart or restart your platform and then attempt to load the indicators on your chart.
STILL NEED HELP? Create a support ticket by emailing the Help Desk team at Help@CandidCommodities.com.