THE PROBLEM: When attempting to add the TAS Indicators to the chart in MT4, their is no TAS Indicators on the Navigator list where custom indicators are added.
THE CAUSE: During installation of the TAS Indicators, the files were installed but was not correctly imported to MT4's data folder.
THE CURE: Follow the step-by-step instructions provided below to reinstall the TAS Indicators into the correct directory/folder.
Guide
STEP 1: Reinstall TAS Indicators Into Correct Directory
Revisit the indicator installation page for MetaTrader 4 at https://www.marketprofileindicators.com/p/metatrader4_install
Run the installer again (no need to uninstall prior one)
On the "Installation Folder" step, you'll be prompted to select the folder you want the TAS Indicators files to be installed into. The user may leave it or change where he needs to temporarily store the TAS Indicators file and later use it to import to MT4's library folder.
STEP 2: Continue through installation
Continue to press next, install Microsoft C++ runtime until finished. If you are prompted with a Microsoft C++ error message, it may be caused by the fact that you already have the most recent version and that is ok.
STEP 3: Login to the TAS Launch Pad
Type in your login credentials and then his the LOGIN button. Wait for it to finish checking and show the status Green "AUTHORIZED".
STEP 4: Locate and Opening MetaTrader 4 Data folder
Start your MetaTrader 4 platform
Go to File, then click "Open Data Folder"
New window explorer will open. That's where the MT4 data folders are and next step is you need to double-click the MQL4 folder
There are 2 folders that you need to import/transfer TAS Files from the temporary installed folder from STEP 1. These folders are Libraries & Indicators.
STEP 5: Importing/Transferring TAS Indicators Files from Temporary Folder to MT4 folders
Open the folder that you temporarily installed TAS files from STEP 1 which is defaulted to folder location C:\TAS.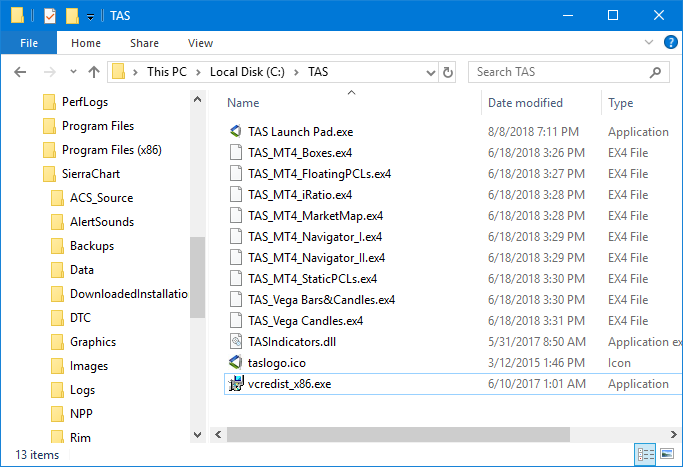 Highlight all the TAS files with .EX4 extension and then right-click and click Copy.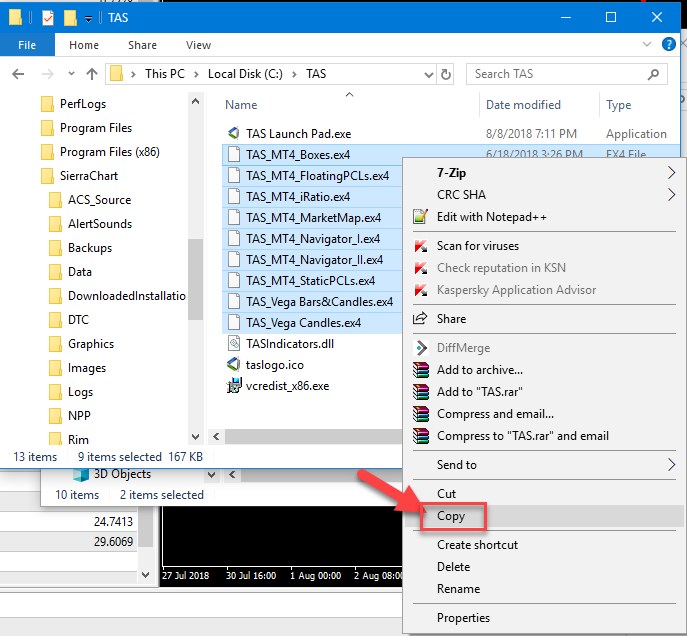 Now, open the Indicators folder from STEP 4 and paste those .EX4 files in that folder.
Go back to the Temporary folder. Select the TASIndicators.DLL, right-click and select Copy.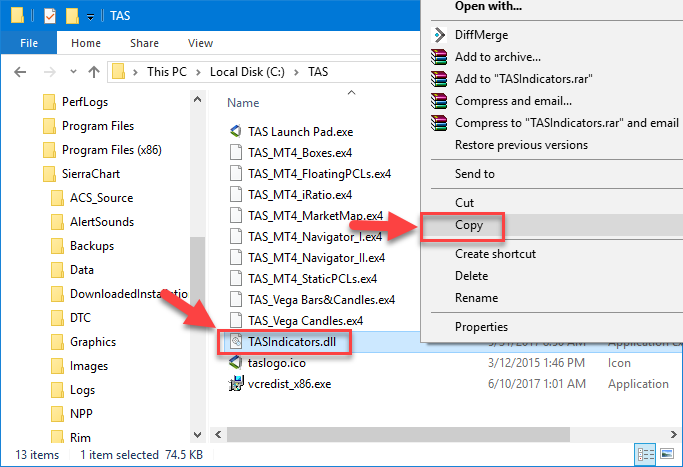 Now for the last time, open the Libraries folder from STEP 4 and paste the TASIndicators.DLL file in that folder and you're done.
STEP 6: Finish Installation
Close all folders and then restart your Metatrader 4. Once restarted, you may now check in the left panel "Navigator" and scroll down to see that the TAS Indicators are showing on your list and you're done. You may now attempt to add them to your chart.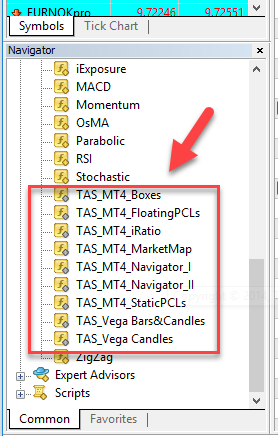 STILL NEED HELP? Create a support ticket by emailing the Help Desk team at Help@TASMarketProfile.com.