THE PROBLEM: When attempting to add the TAS Boxes to the chart, need to adjust the parameters to increase width, color, etc.
THE CURE: Follow the step-by-step instructions provided below to setup the TAS Boxes to desired settings.
STEP 1: Right-Click on your chart, go to Studies -> Edit Studies...
STEP 2: Under the Customize Studies & Strategies window, highlight the TAS_Boxes and click Customize…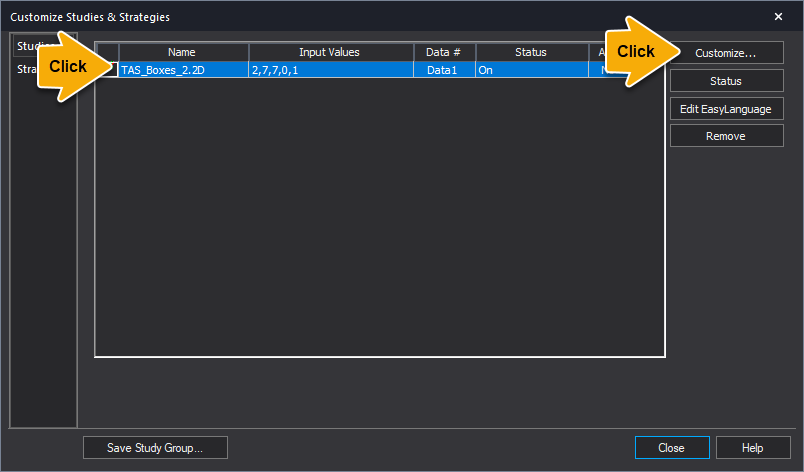 STEP 3: At the Customize Indicators window, go to Style tab.
STEP 4: In the Style parameters to the left, you'll need to configure or setup the TOP, CTR, and BOT.
First, under the Plots pane, select either TOP, CTR, or BOT as these are the 3 lines of the TAS Boxes.
Second, in the Weight Pane, just select the visible thickness. Example below as preferred setup. Do this for the CTR and BOT plots.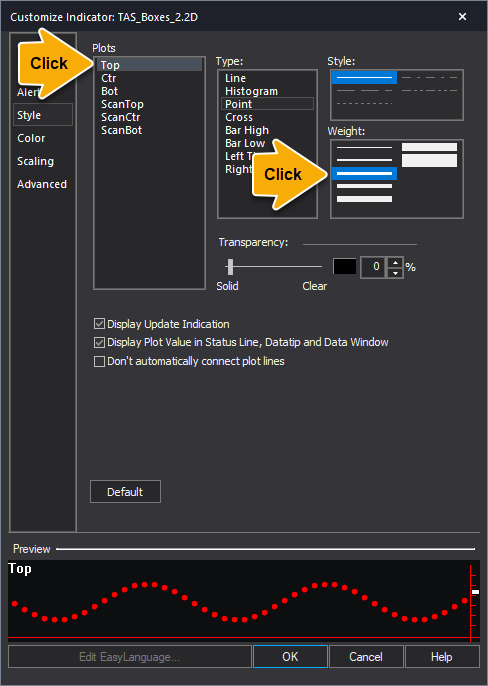 STEP 5: When done setting the TOP, CTR, and BOT, click the Default button and when ask to change the default settings just hit YES. Then click OK.
STEP 6: Next, close the Customize Studies & Strategies window and you're done.
STILL NEED HELP? Create a support ticket by emailing the Help Desk team at Help@CandidCommodities.com.